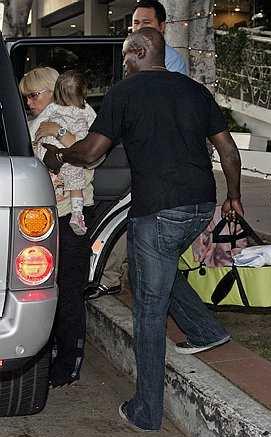 The Klum-Seals hit the town last week, where they got ambushed by paparazzi hoping to score a photo of the new kid. Meanwhile, Seal looks to be toting Henry in a carrycot that's part of a stroller; that thick diagonal black thing on the side is right where the clamps are on the Mountain Buggy carrycot. But I don't know of any yellow MB models...
One MB I DO know: the Mercedes Benz E55 AMG Wagon, which he's loading his guitar into in the pic at right. It's only the sweetest station wagon in the history of the world. Ever. With a 469-horsepower supercharged V-8, the thing's as fast as a Porsche 911S, carries more gear than a Cayenne, and is rarer than a Bentley Continental. They sold out the US allotment so fast, dads had to start special ordering them for European delivery at the factory. Bet that was the last time they were ever slow off the line, though. Oh, and they're $90,000. but day-um... Oh, and their other car is a Range Rover, but who cares? [BrunoPress via cbb]
Read ecstatic reviews of the E55 AMG Wagon here and here and here.
[update: I just heard from the Mountain Buggy folks that there's a Lime Green model available in non-UK Europe, where One Tree Hill markets it as the Urban Jungle Buggy, and the single is available at Babycare for EUR744 (!!). Convention dictates I change the headline to "Seal Drives A Jungle Buggy!!!" but I think I'll pass. Well played, Mountain Buggers, well played.]