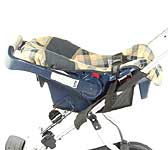 If the only thing holding you back from buying a Mountain Buggy was the inability to lash a butt-ugly American car seat onto it, your wait is over. Mountain Buggy has introduced a car seat adapter for its strollers, which works on both single and double models.
While you've always been able to cart a newborn around in the optional bassinet attachment, now you can go straight from car to stroller with "minimal inconvenience." The adapter appears to be an elaborate bracket/harness/belt setup. Given the fugliness of the car seats, Mountain Buggy's designers didn't knock themselves out making the adapter look good.
But why should they? What with all the supermarkets collapsing around them, Mountain Buggy drivers don't have a lot of need for fussy design. So if it looks like you strapped Aunt Edna on top of your stroller, you'll have the last laugh when you climb out of the rubble unscathed.
Seriously, though, has anyone tried this yet?
Mountain Buggy Car Seat Clip, $48 [mountainbuggyusa.com via babychic101]
[update: duh. The European version sold at babycare.nl (EUR59, steep} fits the Maxi-Cosi and "all current newborn carseats (groep 0+)"]