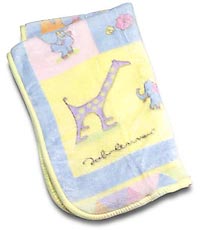 In 1999, Yoko Ono oversaw the publication of Real Love: The Drawings for Sean, a book of sketches of animals that John Lennon made while playing with a then-3&4-year-old Sean. The images were colorized, and have since been exhibited and issued as fine art prints, collaborative pieces authorized and signed by Ono.
At an exhibition of Lennon's art in 2000 at an Omni Hotel in Austin, TX, Ono was asked if she was merchandising John Lennon too aggressively:
Well, I don't think I'm merchandising John aggressively at all. And if John's stuff is not out there, people forget about him. It's as simple as that. Or in the case of John because John is so popular, if I didn't do it, then some people would do it and make some kind of cheap version of it or something like that. And it would really destroy John's work. And so I have to protect his work. And this is the only way I can do it.
And so the images have been adapted, repurposed, and licensed for use on various baby products, including
wallpaper
and
nursery decorations
. [Amazon has
some John Lennon rugs
, for example, for $135. Imagine. And
babycenter has blankets and sheets and stuff
.]
Still, all these soft fabric products are impermanent; they wear out and get tossed, and Lennon's still at risk of being forgotten. Ono still needed something more permanent, a product that would last hundreds of years, keeping Lennon's memory alive for untold generations to come. Which is how Lennon's artwork came to be printed on White Cloud disposable diapers, available exclusively [sic] at Wal-Mart.
Lennon memorabilia collectors have now priced up Real Love: The Drawings for Sean to $40-100.