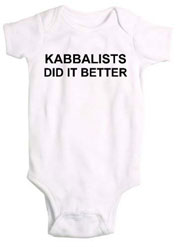 Set aside for a minute the news, the floods, the hurricanes, the wars and rumors of wars, the destruction at our very doorsteps. If ever there were a sign that our world is ripe to be dealt a hand of divine retribution, it's right here: Kabbalah onesies.
These onesies have been approved by the LA Kabbalah Center. Kabbalah teaches one to look within and find the good in oneself - to concentrate on one's own strengths rather than being jealous of others' successes. It's a great lesson in this Material World - one that you're never too young to learn.
The caps on "Material World" almost certainly refer to Kabbalah's great profit, er prophet/pitchwoman, Madonna, who, we are told, "donned 'Kabbalists do it better' for the tour!" !? ?? !!!!
Kabbalah onesies are $19.95 from Babesta. The Kabbalah Center needs you to buy 10,000 of them by October in order to make the rabbi's next boat payment.