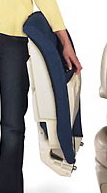 I can't think of anything funny to say about a car seat that folds in half. I'm too busy wondering why all the other car seat companies haven't been taking the ordeal of airplane travel and the schlepping around of car seats into account, and offering folding car seats all these years.
Why do we have to wait so long for a small independent manufacturer of slightly random baby accessories to come up with one? Well, the question may be moot now, because the Sunshine Kids Profile folding car seat made its debut last spring at the JPMA expo, and it's supposed to hit the market any day now.
In addition to folding to an easier-to-carry 6.5 inches, the Profile has a steel inner frame and steel-reinforced seatbelt brackets. Retail price is a reported $199, but no amount of money'll get you a black one, at least not yet.
Check out the Sunshine Kids Profile Folding Car Seat [sunshinekidsjp.com via babybargains, thanks dt reader Mimi]