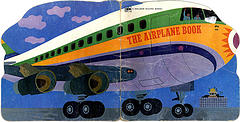 This isn't part of the contest [seriously, how lame would that be to magically pull my name out of the hat and give myself a prize?], just a coincidence too good to pass up.
Like Byron Barton's Airplanes, Art Seiden's 1972 The Airplane Book is all about the joy of taking a plane ride. The difference? The passengers are all extras flying home from the set of Diamonds Are Forever.
Ward Jenkins, an animator in Atlanta, found this diecut Golden Book at a thrift store and scanned it in. He gets pretty excited about how jarring the artwork is, but I have to confess: I like it. Definitely of its time, but the whacked out color combinations also remind me of some currently hot contemporary artists like the NY painter Dana Schutz.

The Airplane Book: a horror of color [wardomatic, via scrubbles]
See the scans in The Airplane Book photoset on flickr [flickr.com]
To buy a copy, skip Amazon, and try abebooks.com instead. There are four right now (including one for $35, almost 100x what Ward paid.)