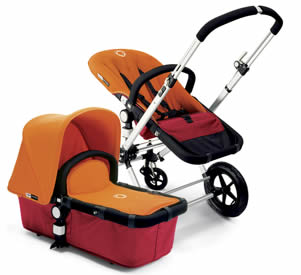 Looks like "sometime in September" means "right now, in August." A report from DT reader Dan:
i just went to my local babystyle store yesterday. when the lady asked if she could help me with anything i asked her "so when are the cameleons going to be in stock?" to my surprise she said "we have them right now".

they have the grey base and all of the top colors. $879 + tax. i ended up ordering mine online at strollandgo a couple of days ago and it already shipped. it should be here 8/25. i got the red base with orange top.

so it looks like these are finally here. at my local store, they are having a demo session tomorrow with the bugaboo representative so i may stop by to give it a little whirl.
Tomorrow would be today, folks. Call your your own local babystyle.
Oh, or check them out on the front of the babystyle site. Both the Gecko and Cameleon, with free shipping and no shipping surcharge for a limited time only. [use the code BUG4ME at checkout.] Here we go.
[Update: the Cameleon's fabric is called "Performance Fleece"?? I'll be there at nine!]