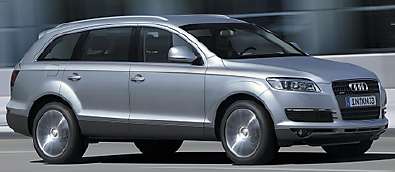 With some rare exceptions, I'm not a fan of the SUV's. They don't need any publicity from me, and I'm only too happy to oblige by ignoring them. And there are plenty of plenty cool wagons and urban transport-type vehicles that accomplish nearly all the tasks a new dad needs done, with much less annoyance, and much better gas mileage.
One of those exceptions may be the Audi Q7, an SUV from the company that practically invented all-wheel-drive back in the 80's. The Q7 has a family ressemblance; it looks like what might result if two cousins-- say, a VW Touareg and an A6 Avant wagon--hooked up at a Porsche family reunion. The good looks are undeniable, but there's a slight mutant quality, too.
Counting back from the expected delivery date--the 1st qtr of 2006 for Europe, anyway--I calculate the reunion took place in late June, probably at a spa near Stuttgart.
If that's not already TMI, you can check out more pics and specs at Jalopnik. Prices start around $60k.
Audi (Finally) Reveals Q7, European Version [jalopnik]