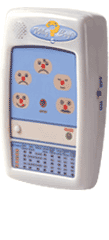 When you spend $120 on The Why Cry baby cry analyzer, you're not getting what looks like a remote control to an air conditioner in Toontown [Or, that's not all you're getting, anyway.] No, my friend, once you're able to identify scientifically which of the five reasons your baby is crying--boredom, discomfort, hunger, sleepiness, or stress-- what you'll be getting is "invaluable peace."
Or you will once the kid actually stops crying. My guess is, whichever of the five reasons it says, you're still gonna run through every possible tactic if the kid doesn't rest his pipes PDQ.
The Why Cry takes just 20 seconds to run the kid's bawling frequency, pitch, and whatnot through its top secret algorithm. And even if you spent that same 20 seconds studying your kid's reactions, it might take you several days, weeks even, to begin to understand him. And who has time for that these days?

The main Why Cry site asks, "How much would most parents give to know why do their babies cry?" If you answer to that question is "why, 66 pounds, at least," then click right on over to the UK site and have your credit card ready. [whycry.com, via DT reader Mark]