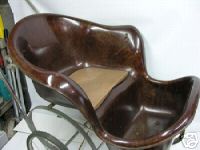 Thank eagle-eyed DT reader Darren for spotting this very unusual vintage stroller for sale on eBay. It's from a company called Hedstrom, which used to make carriages, tricycles, and playground equipment from 1915 until the mid 1980's. According to the seller, this carriage's fiberglass shell design and its remarkable similarity to the classic Eames chair dates it to the 1950's.
To me, the dark brown color reminds me of 1930's bakelite (Hedstrom was an early manufacturer of molded plastic toys), but that'd mean that it somehow pre-dates one of the 20th century's most important designs, and that'd just be too weird.
Bidding closes just before noon on August 2nd. Good luck!
RARE EAMES ERA FIBERGLASS BABY CARRIAGE / SHELL CHAIR [ebay]