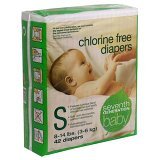 While the fragrant, green scent of biodegradable diapers is still fresh in the air, I thought I'd dig up an article I came across last year about the real environmental impact of "eco-friendly" diapers.
Those are diapers which try to minimize the negative environmental impact of disposable diaper use, through combinations of less-toxic manufacturing processes (e.g., bleaching with water or air, not chlorine) or materials (basically, paper-not-plastic).
All well and good, but when these eco-friendly diapers get sealed into Diaper Genie sausages, then double wrapped in Hefty bags, then buried in an anaerobic landfill, they end up sticking around almost as long as their but-we-thought-they-were-evil! mainstream competitors.
Which doesn't mean you shouldn't buy them. Seventh Generation diapers are solid khaki, without all the cartoon characters, and look much nicer when they stick out of your kid's pants or out from under her dress.
The Poop on Eco-friendly Diapers [wired.com]