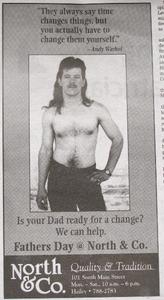 Don't know how I missed this one. My brother snapped this advertisement from North & Co., a fine local establishment specializing in "Quality & Tradition," in Sun Valley's town paper, the Idaho Mountain Express.
The Father's Day offer: "Is your Dad ready for a change? We can help."
No idea what North & Co. actually sells, but since they also quote Andy Warhol, the artist/ filmmaker/ wigwearer/ internationally recognized expert on early 80's-era-hustler-lookin' dudes, I'm guessing it's mullet weaves and chest hair sculpting.
Related: Search for '1980 Trans Am' on ebay