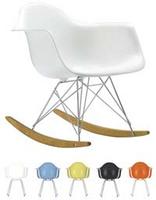 Herman Miller recently reissued the classic Eames Rocker (RAR) with a high-impact molded plastic shell instead of the original fiberglass. It retails for $525, and RetroModern.com usually discounts it to $379, but from June 4-18, they're offering another 10% off as part of a manufacturer-authorized sale. So a new, authentic Eames Rocker can be yours for $341, with free US shipping.
What does that compare to?

Original vintage Rockers can run $800-1,500.

Vintage shells with a reproduction base can go for $400-700+, depending on color and condition.

Although they can't call them Eames, Modernica makes fiberglass shell chairs using much of Miller's original molds and equipment, which they salvaged years ago. They're $374+$35 shipping.

Personally, we went vintage, but that's because we lucked into a beautiful grey shell with an immaculate fiberglass thread pattern. It's been performing like a champ almost every night since.

Herman Miller 10% off sale at Retromodern.com, Aeron and a couple of other chairs not included [retromodern, via apartmenttherapy]
Previously: Eames Rocker: The Modern Nursery Solution