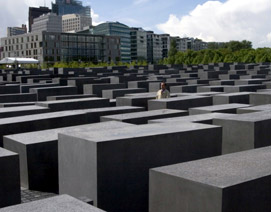 Berlin just opened its Memorial to the Murdered Jews of Europe, a gridded field of dark grey stone pillars of varying heights designed by the American architect Peter Eisenman. The abstracted, maze-like memorial is supposed to evoke feelings of disorientation and the gradual onset of the horrors of the Holocaust.
That may be what happened in the press previews, but as The New Republic's Clay Risen discovered, now that it's open, busloads of damn kids have turned it into into Berlin's biggest playground. Oops.
As any elementary school teacher could have predicted (though not, apparently, the planning staff at Berlin city hall), the children were soon running rampant through the narrow corridors created by the blocks, rudely pushing aside other visitors in what might have been the coolest game of tag ever. Others were trying to see who could climb the highest block; still others were jumping from block to block. I don't have children, but my first thought was about how little time remained before some kid fell and broke and arm, leg, or worse.
EISENMAN'S ABSTRACTIONS FAIL. Stone Cold
[tnr.com, sub. req.]