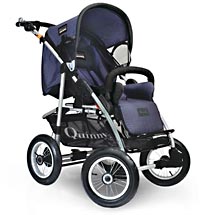 DT reader Steven spotted Quinny's mainstay model, the Freestyle, for sale in an unexpected place: Wal-Mart.com. How did a famously Europe-only brand end up in that American-est of stores? Turns out Quinny had attempted a US launch until last year, when they pulled back, and the remaining inventory has been since showing up in various discount stores.
And so they're online at Wal-Mart for just $159, which is about 30-40% less than their European street price. Before you get all Buzz- and Zapp-happy, consider that the Freestyle is from the homelier branch of the Quinny family tree; it's what Quinny looked like before they decided to get all Bugaboo'd up. Still, they're solid strollers, with unique tilt-steering front wheels (or wheel, in the case of the Freestyle 3), and big air-filled tires that give a smoother ride than any plastic.
For this money and this traditional style, I'd also take a look at the Graco Quattro Tour, which has pretty sweet lines (underneath all the tacked on canopies and diaper bags). The Jeeps are comparable, too, but they may be too plasticky compared to the Freestyle.
Buy the Quinny Freestyle 3 or the Freestyle 4 for $159.98 at Wal-Mart.com [wal-mart.com]
Related: Graco Quattro Tour: looks good at any price (but it's only $100)