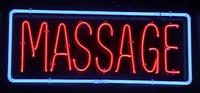 Despite what this slightly freaked out mom might think, the baby massage technique known as Indian milking does not originate in the Kamasutra:
"If it's a boy," she said, "it's even weirder: dim the lights and put on mellow music and get them really comfortable and oil them up and massage them? It was like, come on, I need to be doing this with my husband, not the baby."

Perhaps it is just a case of different strokes for different folks.
Yee-ow, I'd hope so. The one kind of weird that baby massage is
not
is sexy-weird.
Whether you enroll in classes, study up via books and dvd's, or just intuit your way through it, though, there are still plenty of happy endings available for baby massage: For preemies, there's accelerated growth and weight gain. For most babies, it's relaxing and can get them through their afternoon fussy stretch. For Californians, it gets them used to wearing sunscreen. Parents get a nice bonding moment. And then there's this:
"Ethan used to cry a lot from 4 to 7," Ms. Teramo said. "I'd bend his knees back and forth and massage him. You would hear gas come out of him! That was a reward. You actually saw it working."
That's right, folks: no less authority than The New York Times Style Section has declared baby farts to be the new hotness.
For Baby, All You Knead Is Love [NYT]
Buy the book, Baby Massage for Dummies for $11.55 at Amazon
Or there's Vimala McClure, who you may know from such books as Infant Massage : A Handbook For Loving Parents.
Here's a page from a Certified Infant Massage Instructor (CIMI) in Alexandria, VA [thebabyhammock.com, whaddya know, another Ethan]
Previously: baby massage pajamas
Buy a red neon "MASSAGE" sign for the kid's nursery at signmerchant.com, reg. $180, now on sale for $140+$40 s&h [or as I like to call it, $180]