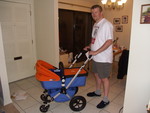 That's the caption on the final picture, where DT reader and dad-to-be Ian poses with their newly assembled Bugaboo Cameleon. It just arrived, apparently, and with about a week to spare.
His yet-to-be-field-tested assessment: "The improvements with respect to the Frog are definitely appreciated. The extensible push-bar is nice for parents of varying heights, and the adjustable suspension on the caster wheels should make for a comfy riding experience for both baby and parent on all sorts of terrain."
Ian documented the arrival on his weblog, but here are a couple of important details:

They got their Cameleon surface-shipped from the Netherlands, which took a couple of months. [The window where this makes still sense is closing soon; the Cameleon is expected to go on sale in the US by the late summer/early fall.]

They bought a fairly non-risky color combo (blue/orange), which worked out well.

They got Maxi-cosi car seat adaptors, but no Maxi-Cosi carseat. Looks like they're going Graco until they get back to Europe; turns out the Frog adaptors apparently still work on the Cameleon.

See more in Ian's post and Cameleon gallery at Caliban.org.