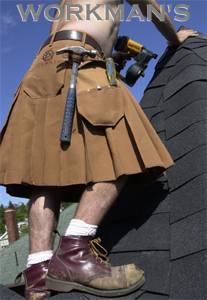 Until I saw them again on the Nano-Tex site, I'd forgotten completely about Utilikilts, the heavy duty (canvas, twill, denim, leather, or camo) "unbifurcated garment" of choice among Seattle's manliest bikers and construction workers.
Utilikilts have deep pockets for holding tools or beer--don't forget the beer. [Hopefully not at the same time. Safety first, after all.] The Workman, left, has extra pockets and a tool hook, room enough to do away with a toolbelt altogether. [It also comes with a "modesty snap" standard, for which the guy at the bottom of the ladder thanks you.]
It's such a manly garment, and it apparently gets men who wear them so much play, they could be called Virilikilts. Yet for all this enlightened he-man talk, and the supposed health benefits of lettin' the boys hang free under there, judging by the testimonials and the photo galleries, no one's ever had the balls to load his kilt up with diapers and wipes, bottles and Cheerios and taken the kid for the day.
If you think that sounds like a challenge, Kiltboy, you're damn right.
Utilikilts, $125-$230 (add $25 for "beer gut cut"), or $700 for leather, which doesn't sound very utili- to me [utilikilts.com]
[update: Apparently, UK Dads aren't the types to let a challenge go unanswered. Click here for The Correction: Dads In Kilts.]