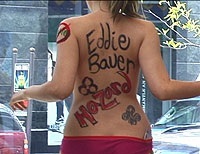 Great, just my luck. A stain- and moisture-repellent fabric technology comes on the market, and I finally have hope that I'll be able to wear my suits, black sweaters, and navy shirts again without worrying about spit up, drool, and formula stains on my shoulder, and it's apparently gonna bring on the apocalypse.
I think the typical solution--drape a burp pad, or a cloth diaper over your shoulder, but make sure it has some kind of decorative edging on it first--looks kind of lame.
Fortunately, I thought, there's Nano-Tex, a molecular-scale fabric coating that helps resist wrinkles, spills, and stains. But it's only available on clothes from the corporate drone places like Gap and Eddie Bauer. No thanks, nano-folks, back to the drawing boards.
Then last weekend a young, hopefully nubile group of protestors exposed themselves in an Eddie Bauer store in Chicago to highlight the unknown dangers of all things nano-, and so I'm back to square one.
Where to buy Nano-Tex: fabric to the Next [nano-tex.com]
Protest against Eddie Bauer's Nanotech [boingboing]
[6/11 update: kottke points to this excellently headlined article on the protest, "When Nano-pants Attack," in Wired News.]