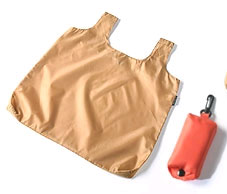 A couple of times when I've forgotten to bring one, I've improvised a bib by tying a plastic grocery bag around the kid's neck and tucking it into her restaurant high chair strap. Maybe that's why, when I saw this superfolding, lightweight nylon shopping bag--which my wife got as a gift--unfurled next to the kid the other day, I thought, "Day-um, that'd make a mighty fine dress. Just cut off the bottom, maybe hitch the shoulder straps together on her back to hold it on..."
But since the wife apparently has issues with dressing the kid in shopping bags (who knew?), I'm left to wonder. Or to get my own. Turns out the bag is made by a German company called Reisenthel. It's called the Mini Maxi Shopper, and it comes in a bunch of different colors. The nylon's really light and strong [or not. see comments. ed.], like fine toy parachute material.
Then, as I was surfing Reisenthel's site in full MacGyver mode, I spotted this very interestingly designed, aluminum-framed Carry Bag. And I thought, "Put some wheels and some cupholders on that thing, and you'd have a right fine stroller. Probably could sell it for a hundred bucks. Maybe even more, who knows?"
Reisenthel corporate site [reisenthel.de]
Reisenthel Carry Bags and Mini Maxi's for sale on ebay.de [ebay.de]