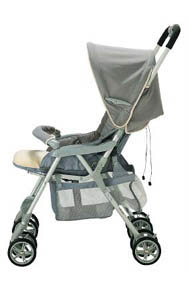 As design junkies the world 'round already know, Muji is the brand of choice for people who don't like chasing brands. The name means "no logo" in Japanese, and the company produces practically everything from toothpicks to clothing to an entire house, all with a well-designed, no-nonsense sensibility. I heart Muji.
Which bums me out to say I'm disappointed with their strollers. Muji may have excellent, highly functional design, but it's also very Japanese; their strollers are inside-the-box products for the Japanese market.
The larger of the two models, the Baby Car A-kei (pronounced A-kay, or A-type) is basically the same old, wobbly Combi/Aprica side-chair-on-teeny-wheels design, just with a minimalist palette. Practically every stroller in Japan is like this, and so the A-kei ends up being just a fashion choice.
The umbrella-style Baby Buggy is better, partly because it's honest about what it is: a no-frills ultralight meant for easy travel. The unpainted steel frame is cool, and the black mesh seat has a washable seat pad which can be removed (for better butt ventilation, I guess). There's also a handy kickstand thing for when it's folded, and a shoulder strap. Basically, it's like an even more stripped down Maclaren Volo. Hmm. I guess this one sounds alright--if you're looking for a classic umbrella travel stroller. There's not a lot of innovation, just a bit of refinement on the status quo, which is, I guess, a very Muji approach.
In both cases, though, the handle height is pretty short. They're made for Japan, after all, and for Japanese moms in particular. I was just about the only guy I ever saw pushing a stroller there last year.
Muji A-kei Baby Car is ¥19,800, and the Baby Buggy is ¥6,500 online at muji.net, but it's only in Japanese, and they don't ship internationally. [muji.net]
The Muji+Infill Model Houses opened starting 4/28 [muji.net]