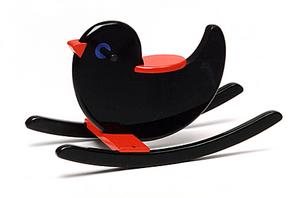 Granddad got the kid this Rocking Chicken from Playsam, the Swedish maker of sleek wooden toys. She loves it, and as she was rocking frantically on it this morning, my wife asked me for a rocking song. Stumped, I just said,
Rocking, rocking, rocking,
Keep that chicken walking,
Christmas tree's got flocking,
Rawhide
Note: whether it's a concept-vs-execution thing or a US-safety standards thing, our chicken (shipped directly from Sweden) has two red crossbars, not one as pictured here.
Anyway, it'd be tacky to print the price of a gift, so you can click through yourself to see.