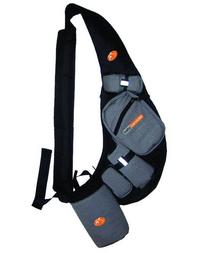 We were just talking last week about all the crap and gear you have to take with you when you go out with a kid. [Actually, I was kind of ragging on people I saw on the street who'd stuffed and hung their stroller with so much gear, they looked like homeless bums.]
By paring down to the essentials, the parent/designers of the Baby Bandolier have taken a step in the opposite--and right--direction. The BB is basically a shoulder strap with a row of compartments attached, which hold diapers, bottles & food, and cell phones & keys. There's also a detachable insulated bag. But for my money, the most ingenious thing is the built-in changing pad, which unfurls from the strap.
The Baby Bandolier comes in two size/color combos: a smaller, all black version, or the Extreme Condition, which is a larger, black/grey combo for longer trips, or for burlier guys.
Or for the parents of twins. The inventors have three little kids now; I'd be interested to see how they manage with only the gear they can fit in a Baby Bandolier. Maybe you strap on two, like Rambo.
The Baby Bandolier is $34.95 or $39.95 online [duds4dads.com, via DT reader Dan]