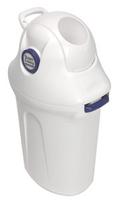 I just assembled our new Diaper Champ, which replaces our Diaper Genie, which really started reeking and sucking. Stay tuned for a hands-on, nostrils-flared review, but I can feel confident making at least one prediction.
[Before that, the basics: each can has its own way to seal away odors. With the Genie, you push a tightly wrapped diaper into the top of a tubelike garbage bag, twist it, and turn the diaper into one link in a pungent sausage [which regularly unfurls when you then throw it out]. The Diaper Champ, on the other hand, uses a tumbling piston thing which works like an airlock to drop the diaper into a regular garbage bag. When you open the can, though, the whole pile will assault you.]
Anyway, I think the kid'll love it. I started playing with the tumbler thing straight out of the box; the kid will put toys, shoes, whatever's within reach, into this thing, and she'll have a blast watching it disappear. At that point, our days will be filled with having to fetch her stuff out of her smelly diaper pail.
Maybe I should start a pool to see how long it takes her to figure it out. [update: one day for the rotating handle, one day to discover the piston chute.]
[update #2: I may have to retitle this post "The Diaper Champ: So easy a child could use it, and she does, stuffing her shoes in it all day"]
Buy the Diaper Champ for $29.99 at Amazon [It looks so much smaller in the picture]
Previously: Please redesign the Diaper Genie