After exposing the kid to little more than my badly remembered lyrics for a year--and the occasional NPR--we fear we're already too late in starting her musical education. I mean, in Manhattan, there were music classes for 9 month-olds we should've signed up for when she was born, and we missed them. Losers, I know.
Anyway, to make it up, I've started researching musical instruments, something to go with her Block In Plastic Cup, which she practiced all day yesterday.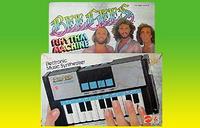 So my first thought is, any toy piano that's good enough for John Cage... [I know, just shoot me now. I'm the one in the black turtleneck.] Well, Cage--or his leading current interpreter, Margaret Leng Tan, anyway--preferred Schoenhut toy pianos, specifically the 25-key upright model, 6625M. We've seen Tan play it at Carnegie Hall, and she's released a CD of music written for the toy piano--plus Schroder's favorite, the Moonlight Sonata. Heady stuff, but I seriously wonder how long I could take unmodulated banging on that thing, even if I could convince myself it's inspired by the randomness of the I Ching.
Other vintage options: Mini organs. A German guy has amassed a collection of over 110 electronic toy organ/synthesizers from the 1960's onward. He rates and reviews each model, and includes some audio samples, too. Some surprises, some common sense, (Everyone knows the Bee Gees Rhythm Machine was superior to the Shaun Cassidy Electronic Organ.] but nothing for sale. Oh, and they all sound frickin' annoying.
You may have figured out that, at this point, I'm searching more for my own amusement and less for the kid's musical enjoyment.
Schoenhut, toy pianos since 1872 [toypiano.com, also on ebay]
An interview with Margaret Leng Tan [studio360.org, buy her CD, The Art of the Toy Piano]