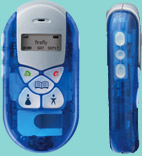 The kid's expanded her use of our cell phones. She used to just chew on them and saturate their crevices with her drool. Then she started cuddling them, which approximates the way some hedge fund guys I know treat their Crackberries.
She listens to a call only sporadically, though, and she clams right up when it's time to talk. But I know it's just a matter of time before she starts blowing the lid off our calling plan by the first of every month.
So you can guess I'm not too excited about the debut of the Firefly, which bills itself as the first mobile phone for kids. It has mom and dad on speed dial, and it holds up to 20 numbers in its address book. You can even program it to not accept calls that don't originate from one of those numbers.
True to its name, the Firefly lights up all over the place when it rings. It reminds me of those annoying kids shoes with blinking lights in the heel.
There's no mention of pricing, and even though it's a GSM phone, it's only compatible with the Suncom network, which I think started out a CB radio in rural North Carolina. Theoretically, unlocked Fireflies should work on any GSM network, though. Y'all.
Order Firefly Mobile phone for kids for--who knows? [fireflymobile.com via DT reader...damn, where's that email?]