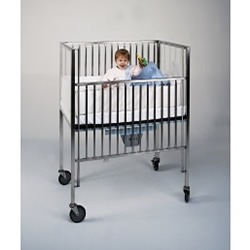 As you'd expect from a product targeting the Babycare Industrial Complex (i.e., hospitals, day care centers, nurseries, etc.), this sweet commercial-grade stainless steel crib with plexiglass ends from Kaplan is kind of standardized. At a glance, it's remarkably similar to the Construction Playthings model featured here last August, but like they say, it's the little differences:

These wheels are bigger, which looks kinda nice.

There's no easy-operating "Johns Hopkins handle" [whatever that is].

The Playthings one looks shinier, but it may just be the picture.

The Kaplan includes with a mattress

Plus, it's $500 less [with free shipping in the 48 states. SORRY, Canada. heh.]

Buy this stainless steel crib for $1,150.95 at Kaplan Early Learning [kaplanco.com, thanks DT reader Amy]
Previously: Lab-quality stainless steel crib