VINCENT
You know what the funny thing about Europe is?
JULES
What?
VINCENT
It's the little differences. A lotta the same shit we got here, they got there, but there they're a little different.
JULES
Examples?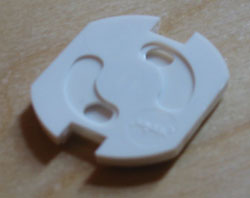 VINCENT
Just look at this outlet cover, it's only EUR 0.50 from Jippies. It twists open so you don't have to take it off. But they use metric plugs or some shit over there, so it doesn't work here.
JULES
Damn!
VINCENT
And this clear pacifier, which is made in Germany. Do you know what they call a pacifier in Germany?
JULES
They don't call it a pacifier?
VINCENT
After two world wars, you think they know what the *&(# a pacifier is.
They call it a Beruhigungssauger.
JULES
Damn! But I don't remember Germany invading Iraq and shit any time recently, man, so watch with the pacifier commentary. Anyway, thanks to Vin Diesel, I'm sure we'll all be calling it a Beruhigungssauger from now on.
VINCENT
Good points.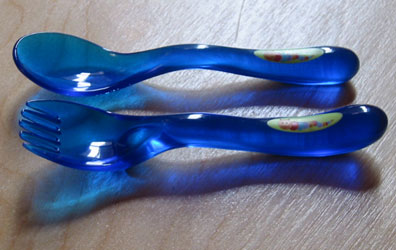 VINCENT
But check out this cool little fork and spoon set from the private label of etos, the Dutch drugstore. They look good and really fit the kid's hand, and the set was only EUR3,00.
JULES
Damn, Vincent! Don't tell me you paid three hundred bucks for a couple of plastic spoons!
VINCENT
Relax, man. They use commas where we use decimals, and vice versa. With the exchange rate, it was probably a hundred.
JULES
Oh, OK. Hey, is it true they have those old school apple pies at McDonald's over there?