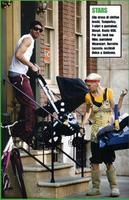 When I saw a Bugaboo on the cover of Italian Vogue at the newsstand a couple of weeks ago, I had to check it out. It took me a few pages to realize there was a reason I couldn't readily name the scruffy stars and starlets in Steven Meisel's paparazzi shots: they weren't actors.
The fashion photographer used models to stage dead-on simulations of the spy photos of celebrities in everyday situations--smoking in an outdoor cafe, loading groceries in the car, pushing a stroller, sneaking a smoke while pregnant [?!]--that fill the pages of Us Weekly and People.
If it had been an actual parody, I would've scanned in some images and posted it immediately, but there's a reason Meisel is more famous as a copyist than a satirist. The only thing that made it worthwhile was a couple of baby gear usage goofs that were apparently lost on the child-free stylist, but which actual parents would spot immediately. But isn't pointing that out the dork parent equivalent of of "But Picard never met Spock at the Academy! Only once, on Romulus in season five!"?
Well, dorky is as dorky does. Now someone has posted the entire photo shoot online, I'm all too happy to point out, "Bwah! They're carrying that car seat around with the base attached!" Dorks.
Vogue Italia 2005/ Hollywood Style [fashionspot.com, via Gawker]