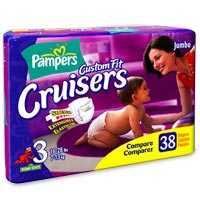 Our baby has had some pretty embarassing problems with leakage. It's not something we talk about, because really, at her age, what could we do?
Then I found Pampers Cruisers, and our lives have changed. Pampers really came to the rescue. The hi-tech absorbent core holds several times its weight in fluid, and the stay-dry lining keeps moisture away from baby's galvanized body, where, if left untreated, it could cause rust.
Seriously, we are the proud second owners of a great '85 Mercedes 300 CD coupe, which is an awesome car, except for the annoying leak that's been plaguing it since we bought it three years ago. When it rains and the car's at just some angle we can't determine, water trickles in from somewhere and pools in the rear passenger footwell. It's a classic problem with this classic car, and it's the reason we have a bale of car wash towels in the trunk.
Well, last night, in the rain, when I was too lazy to take the new case of Pampers from Costco inside, I yanked out a couple of them, and butterflied them out business side down on the rear floor. This afternoon, they were plumped up like two giant pillows, and the floor was nice and dry. I am so loving these things.
Holy smokes, you can buy Pampers at Amazon? [amazon.com]