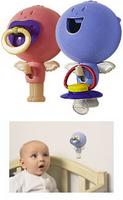 According to Sarah's comment on the Seimi Dummy Stand, they're ALL called dummy stands.
This example, from Monkey Business, is called a Baby Face Pacifier Holder, though, at least on TinyTantrums.com. Probably because the parents of the stunned-looking kid in the picture threatened to sue.
The MBBFPH is cute enough, and the Baby Face thing, with the wide-open mouth, I get just fine. But I have to ask: what part of Baby is that other pacifier supposed to be hanging off of?
Monkey Business Baby Face Pacifier Holder, $6.50 at Tiny Tantrums [tinytantrums.com, nsfw?]