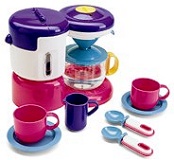 Because nothing goes together better than small children and caffeine, Discovery Toys offers Pour Some More (or is that Pour Some More!!), a realistic toy coffee maker for children aged "from 4 years ñ Primary School." At least I think it's a coffee maker; except for chirping that it's "Such fun to imitate Mom and Dad!" the toy's description carefully avoids any mention of what it might actually be or do.
Maybe that's because it's really an educational tool. Besides the obvious career training opportunity it represents (base-level skills for, if not Starbucks, at least 7-11 or a gas station somewhere), Pour Some More helps improve "Social & Emotional, [and] Fine Motor," child development-speak for "I can't get through the day without a couple dozen venti mocacchinos."
Watch for the companion book, It's Just A Cup, One Lousy Cup!.
Buy a Pour Some More at Discovery Toys, for $24.99 US, $34.99 CN [discoverytoys.com, via DT reader Ponch]
Previously: It's Just A Plant: A Book To Explain (Your) Marijuana To Your Kids
Totally unrelated, I'm sure: My First Meth Lab