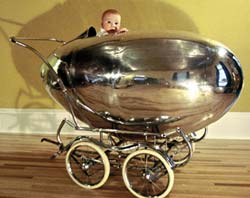 Growing up, my favorite car ever was the Alfa Romeo Disco Volante [OK, my actual favorite car was the 1955 Porsche Speedster, because I'd seen it in person and was deluded enough to think I should get one before graduating from high school. The Alfa was my favorite car I'd seen only in books and magazines. One sentence and I'm already off-topic...]
Anyway, the Disco Volante, or Flying Saucer, was a 1952 racing roadster with a gorgeous, bulbous body. Some race versions had one of those vertical fins that extended from right behind the driver's head. It was both an instant classic, a nod back to the swoopy custom coachwork of pre-war luxury cars, and an expression of the future as seen from early in The Atomic Age.
All this comes to mind when I see the Pramulator, by John Knott, the artist and craftsman behind Bent Fabrication. Knott has created a stroller--actually, it's a one-of-a-kind sculpture--with a hand-shaped aluminum body and a vintage 50's carriage chassis.
Sure, the seat looks cramped and uncomfortable, like the cockpit of an old fighter jet, but I'm pretty sure that if you got Knott to make a second one, he'd happily build a kitchenette, changing table, and a baby-sized bunk into it. It'd be your kid's own custom-made Airstream trailer. And cup holders. Don't forget the cup holders.
The Pramulator, by John Knott [Bent, via Cool Hunting via Cameron]
Related Baby Gear-as-Art: Atelier van Lieshout's "Womb House" and "Bad Furniture" Crib