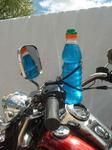 Ahh, there's nothing quite like the freedom of the open road. Unless it's enjoying the freedom of the open road with your drink handy. That was presumably the inspiration for The Motorcycle Drink Thing, one of the slickest, best-looking drink holders I've ever seen. It's available with brackets in two sizes (Harley and custom), or with a two types of windshield attachments. So why do I mention this here, you might ask?


No reason, except that, according to DT reader Marcia, the larger, 1.25-inch bracket FITS ON A BUGABOO HANDLE. That's right, the solution for European strollers' woeful lack of cupholders originates from that roaring star of good ol' American engineering, the Harley Davidson.
To fit the Drink Thing on Bugaboo's flattened oval handle, Marcia reports, you have to remove the bracket linings. That leaves a little gap between the bracket and the handle, but it apparently holds nice and firm. While there was some discussion of using a pair of longer screws in the Helm's bracket, Marcia said the originals work just fine.
Whether its engaged or folded flat, it looks damn fine from where I'm sitting. Or pushing. Says Marcia, "I thought you macho daddy types would approve!"
So I raise my cup to The Motorcycle Drink Thing, and then, even better, I put it down again.
Buy The Motorcycle Drink Thing online for $26, and then why not visit their friend, The Leather Lady, for good measure? [drinkthing.net]