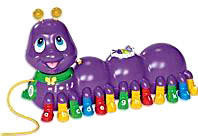 DT reader Cameron mentioned this in the comments for the loud Learning Home toy:
We have a Chenille ABC (I have no idea what it's called in English) by Leapfrog. Lucas loves it. Adores it. The first one broke and we (against our better judgment) replaced it. Each of the feet triggers a phonetic pronunciation, a letter, a colour or a song, depending on the mode you are in.

When you leave it alone long enough (a length of time designed to make you forget it was being played with) it bellows out "Merci de choisi Leapfrog" (thanks for choosing leapfrog). 6 months on with this toy and that bit never fails to make me jump.
I'm guessing that chenille is a centipede, but I'm also guessing that this is AWESOME. At least as a gift. heh.
It also makes me wonder, since all my razors in the US come in bilingual packages, if talking toys in Canada are required to be bilingual, or are they just available in monolingual versions?
Buy a Leapfrog La Chenille ABC - Alphabet Pal - French Version [duh, does that answer my question?] from Zooscape for $US25.25, or buy two [?!??] and save $1.35 [NOW I see the racket; In Canada they make you buy two of everything.]
[update: From the story of this cranky Anglo grandma who wanted to import an English-only-speaking punching bag to Quebec, here's what I'm getting: unless it is a "cultural product," for an English-language talking toy to be sold in Quebec, there must be a French version available as well. Donc, La Chenille.]