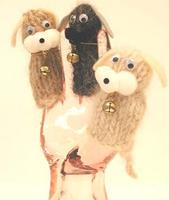 Started as a loving tribute to a lost companion, VIP Fibers creates custom spun yarn from the fibers of your Very Important Pet or, if your pet is not very important, from the high-quality fibers of some other dog, cat and other suitable pet.
In addition to custom spinning, they offer readymade yarns and a small selection of handknit gifts and keepsakes such as Finger Puppy Puppets. Although they're not recommended for children under the age of 3, I think the dad who didn't buy these and tuck them away until his child is old enough to appreciate them is a fool.
Most Finger Puppy Puppets are $12.00, but remarkably, there are a few puppets in 100% German Shepherd on sale for only $6.25, including gift box. There is also a fun little infant-sized hat, complete with ear-like tassels, in oatmeal-and-brown-sugar-colored Samoyed/Chow yarn for only $35.00.
I can only stare in awe at the reaches of human ingenuity and creative expression.
Finger Puppy Puppets in 100% German Shepherd [VIPFibers.com, via Defective Yeti's comments]
Fun Samoyed & Chow Hat
Related: Finger Puppets on Daddy Types