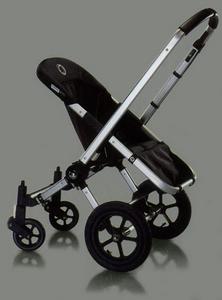 While the ladies are trying all the different colors on their Bugaboo Cameleons, the taller brothers will be standing tall with the extendable handles on their...Bugaboo Cameleons.
So who's left to give props to the Bugaboo Gecko, the other replacement for the Frog? Average-height folks who appreciate the innovative essence of Bugaboo's brand. Pared down in many ways, the Gecko is designed to be a simpler, less-ostentatious, more economical Bugaboo. It's a Bugaboo from the block.
There's no riot of color combinations--just black, red, and green. And the all-aluminum frame has a techy, design-y feel. In fact, the Gecko's profile and seat positioning bear a strong resemblance to the first Bugaboo, Max Barenburg's 1997 prototype for the Cologne Design Fair.

When the Cameleon is described as "larger," they no doubt mean "larger than the Gecko." No idea yet how the new models compare in size to the Frog.
One other characteristic of the Gecko customer: they never go up stairs. The Gecko does away with the crossbar carrying handle. No big deal: in no time, I'm sure you'll find an innovative way to carry it, and your kid will find an innovative place to chew. But while the Gecko might suck at stairs, I'm pretty sure it can climb walls with ease.
No word yet on availability, accessories, or price, except that the Cameleon is "larger."
Check the Official Bugaboo site for updates.
[12/1 update: Bugaboo US contacted me and asked me to remove the previous links. Apparently, it's not yet Gecko season in The Netherlands (more like jump-the-gun season).]
Previously: In the beginning was the Bugaboo