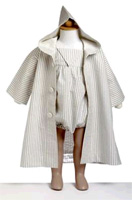 Manomia is small French company creates exquisite baby clothes using some of the highest quality fabrics and techniques around. Almost the only Google result for them is a blurb in Departures, the Amex Platinum Card Magazine. Meanwhile, Baby Chic 101 links to the only piece that turns up online, an awesome-looking silk tunic that goes for the hah-made-you-drop-your-fork price of $395.
Their stuff's so exclusive, their website only features two outfits, including the djellabah above, priced at...well, if you have to ask...
Coincidentally, "Manomia Djellabah," is Jawa for, "These are not the droids we're looking for."