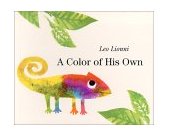 Leo Lionni wrote every book you read as a child, including A Color Of His Own, the story of one chameleon's quest to find out who he really is.
Along the way, our confused hero meets an older, wiser chameleon who offers to show him the ropes. They move in together and live happily ever after, which leads me to believe the story is set in Massachusetts. Or Canada.
Buy A Color of His Own in hardcover, or as a very chewable boardbook edition, at Amazon.