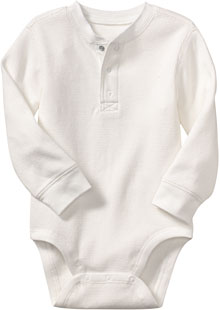 We saw this cool thermal bodysuit in the babygap store on Fifth Ave. this afternoon, but they didn't have the right size. Not being a regular Gap shopper or Banana Republican, I was impressed by their point-of-sale technology that could 1) order the item for us on the spot online, or 2) tell us a handful of other stores nearby with our size in stock. We chose Option 2, which listed the two Gaps we pass on our way home (a walk of 10 blocks, which is a frightening concentration of Gaps, if you think about it).
What a mistake. The non-flagship stores were chaotic dumps with surly help who cared more about clocking out at exactly 5:00 than spending the last fifteen minutes helping a customer with a computer-printed specific request.
One more benefit of buying online: No salesperson will ask you--as you hold your obviously-a-girl kid in your arms--if you realize that plain white jumpsuit is for boys.
Anyway, we just ordered the thing online, where it turns out to be on sale. Now that we got ours, I glad to recommend it. [Gap's fine for basics, but don't buy anything you mind seeing on a hundred other kids when you go out.]
Ribbed Henley Bodysuit, off-white, $7.99 at Gap.com