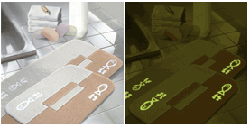 Most of LumiLuxe's glow-in-the-dark bath rugs have matching toilet surrounds and lid covers, which are also made out of glow-in-the-dark carpet.
There are abstract and floral patterns, a basketball court design for the kids, and the fish/aerial bombs pictured above. If these LumiLuxes don't match your decor with the lights on, just be patient; a custom business is apparently in the works.
Why do I feel I should be telling my grandmother about these, too?