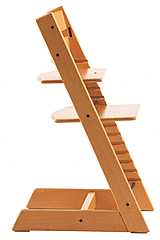 With well-designed furniture--an Eames lounge chair, for example--while you could get a new one ($529 via eamesoffice.com), the older ones, with a bit of wear and a nice patina, are better. They're something worth keeping.
Most kid furniture, on the other hand, isn't worth the raw plastic it's molded from. There are a few exceptions, though, like the Stokke Kinderzeat, which has a modern feel, but with a slightly odd, 70's Scandinavian twist. I know it says 18 months and up in the US, but in Europe, they use them as soon as kids can sit up. [Of course, they leave their kids on the street or in hotel rooms in Europe, too, so go figure.]
I'm reluctant to buy a new one, though. I mean really, Kinderzeat/Tripp Trapps have been in production since 1972. Don't people ever throw these things out? [Yes, this is how I found the Xplory on ebay last night.]
What, you're going to buy a new one now? Fine. They're $199 everywhere, including at babystyle.