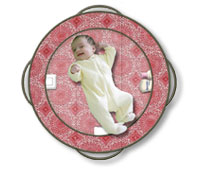 With her two kids, Grace Welch found out what we've been finding out lately: it's damn hard to keep a wiggly kid on a rectangular changing pad.
Unlike me, though, Grace did something about it. She designed a circular changing pad, added some pockets to tuck a diaper and wipes, and started making them, in six different patterns named after her kids, her husband, the grandparents...and Brown University [in case the kids don't get into Harvard].
They look kinda purse-y when they're folded up. So throw it in your bag, or make sure you wear matching shoes.
Check out Patemm Pads at Patemm.com. [Thanks, Jonathan]