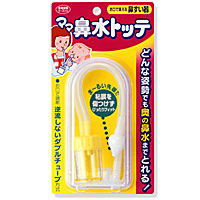 Well, as awesome as a system for sucking the snot out of your kid's nose gets, I guess.
I found this Baby Mucous Sucking Device at the Baby Paradise superstore next to our hotel. It consists of two 9-inch or so tubes, which run into a little case about the size of a Zippo lighter. And it works like you'd fear/expect: stick one hose in your kid's nose, and suck hard on the other hose. The box acts as a safety catch for any treasure you get out.
In grand Japanese tradition, this is actually just a technological improvement on a technique that a US parent discussed on the previous snotsucker bulb post.
The manufacturer, Tampei's actual name for the nose siphon translates to "Mama, pick my booger!" So far, no Japanese dads are rioting in the streets for equal treatment on this one. MSRP: about 1,000 yen, but Toys R Us Japan sells it for 839 yen