It was only a matter of time.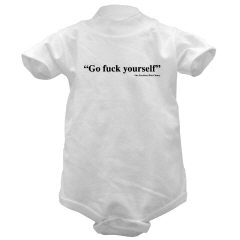 "Go f&%* yourself!/ Vice-President Dick Cheney" Onesie(R)-like garment,
$14.99 from Cafepress
. [thanks,
Gudlyf
]

* see below
* Note: This is NOT a Onesie (R). To be an authentic Onesie (R), with all the brand equity and high quality that trademark connotes, it must be manufactured by Gerber Childrenswear, Inc., who have been nurturing the Onesies (R) brand for over twenty years. At best, this is a Onesie(R)-wannabe.
Unfortunately for those who want a combination of excellence and profanity, at this time, Gerber does not manufacture a Onesie (R) printed with the Vice-President's expletive-laden instruction. The public utterances of elected officials are not subject to trademark, however, so if you are so inclined, why not buy some authentic Gerber Onesies (R) and print Cheney's statement on them yourself? If you offer them for sale, be sure to let me know.