Move over, Gwyneth, there's a new Effect in town. A candid photo of a celebrity using a branded baby product causes a sudden spike in sales.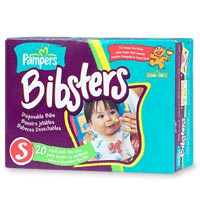 Shoppers emptied the shelves at drugstores around the country when Trixie was photographed wearing a Pampers Bibster Disposable Bib. Fortunately, they're still available at Drugstore.com, with no wait list.
Trixie's people are still developing a product placement rate structure for TPOD, but sources say the program will be similar to the 80's sitcom, Too Close For Comfort, where Ted Knight wore a different college sweatshirt in each episode. The show precipitated a scandalous NCAA bribery investigation,which led to its cancellation, but it was too late; the product placement genie was out of the bottle.
[Or maybe this is all part of Pampers's crisis management strategy; just this week a 4-month old baby in Albany choked to death on a disposable bib. Remember, read the label carefully.]