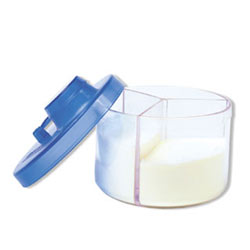 We got this blue-lidded, 3-chamber baby formula dispenser from Munchkin . But we found it leaks so much formula, we had to store it in a Ziploc bag. And it would occasionally leak from one partition to the next, screwing up the portions. (My online shopaholic mom bought two, actually, because the shipping was more expensive than a single dispenser. If you want one, drop me a line; I'll send it for free to the first two suckers who ask. But I warn you, they leak.)
Then, we got a white-lidded Especially for Baby formula dispenser from Babies R Us. [not online, unfortunately.] It works much better; ie, the lid stays on, and it doesn't leak. Which is all I really ask of a dish for transporting powder.
Tupperware apparently makes one, too, but we're not Tupperware people, or rather, we don't know any Tupperware ladies people, so it remains a mystery to me.