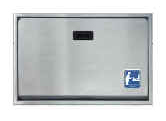 The URL sounds like it's the guy's 10th choice, and the website looks like it was designed in 1996, but the Canadian site hotelfun4kids.com is a changing table heaven. HF4K consults the travel industry on making destinations more kid-friendly, and supplies just about any kind of changing table and commercial-grade kid furniture you can imagine.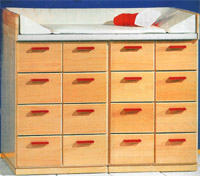 I found it while searching for info on this recess-mounted stainless steel model with hydraulic lift--the Lexus of changing tables, as far as I'm concerned, and a hundred times better looking than the standard Koala--which I saw at the Hirshhorn Gallery in Washington, DC over the weekend. It's $999, but who cares? It's not like you're buying it.
In the mean time, there are a few things actually worth considering: like this straightforward beech diaper changing chest (a rather steep $2,999, and that's NOT $CN), the Valu-line changing tables ($229-329), and the colored ABS plastic mobile changing tables with tilted storage bins underneath ($149-199). Interesting stuff.