I don't know anything about their ride, reliability, utility, resale, or safety. Even as I laugh at and reject the flawed, obvious, "this is the most expensive car I can afford" approach to carbuying, I'm probably too brand-conscious to ever buy one. But every time I see one, I think, "that's just a fine-looking car. Well designed but not showy. Balanced, clean, practical, not so big it looks like someone's trying to compensate for some other deficiency. An all-around cool, unpretentious ride."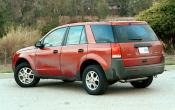 Of course, I'm talking about the Saturn Vue. From the Edmunds review, it looks like Saturn fixed the biggest complaints--cheap interior; loud, weak engine--in 2004.
This year Saturn also brought out the Vue Red Line, which has a performance package (but the same v6 engine), larger wheels and tacked on sideskirts and wheel flares that kill the clean lines of the original design. I'd rather take the money you save not buying an M-Class and do an almost invisible Pimp My Ride-ification on a Vue, giving it a Mercedes-level interior. But that's just me.
Next up: The Isuzu Axiom, which is nearly as well-designed, but which suffers from Isuzu's unrealistic expectation that people view it as a luxury SUV.