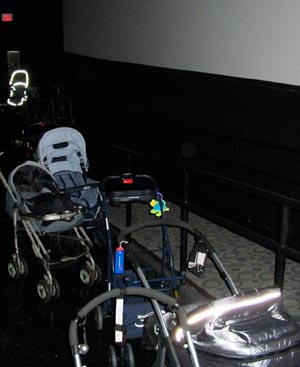 Let me explain that. After posting about movies for parents with babies, I decided to try it for myself.
Tuesday morning, I went to the Loews Georgetown theaters in DC for Reel Moms [sic]. I'd get all pissed about the "But dads are invited!" branding, except the movie, Laws of Attraction was, literally, as chick flick as you could get. Dads were so rare, a radio reporter covering the screening made a beeline over to me for an interview. I suggested they show Kill Bill [Hey, it's about a mom; it'd be perfect...]
There were easily 75 people there, not a bad turnout for a weekday at 11AM. I was the only dad flying solo, but two other guys turned up with woman&child. One mom said the slightly larger turnout was probably due to the film, which was a sneak preview. It was stroller gridlock, with the smart moms arriving early to get the wheelchair spots in the stadium-style theater. Everyone else parked in front.
A lot of regulars. Moms greeted each other, or came in in little clusters. Most kids sat on laps; a few asleep in carseats. Unlike our 2-month old, then, these are kids old enough to sit up on their own. With moms who've been home for at least several months to a year+.
Periodically, a small crying wave would break against the theater walls, followed by a chorus of loud shhh's (the rhythmic, baby-calming kind, not the shut-that-kid-up-I'm-watching-a-movie kind). That said, the only annoyance was the jabbering moms behind me, who clearly should've met up for coffee, not a movie. It was a decidedly liberating feeling to be in a movie with a kid and not worry about getting pelted with Dots if she cried a bit. Two points for Reel Moms.
An advance screening brought with it a rampant corporate/studio fear of intellectual property theft, as I found when a swarm of security guards descended on me and my pre-screening stroller-photo-snapping camera. Never mind that a theaterful of crying babies is more than enough to render any movie pirate's videotape utterly unsellable. The only IP infringement I saw was by one of the other dads, who stood up mid-film to quiet his kid using my copyrighted deep knee bending technique. You'll hear from my lawyers, pal.
The lawyers I had the most problems with, unfortunately, were the ones onscreen. Let me say that based on the 40 minutes I saw of it, Anthony Lane's review of Laws of Attraction was very generous. It was as saccharine a chick flick as I've ever partly seen. But what about When Harry Met Sally? Or You've Got Mail, you say? Dude, those movies are like Terminator 2 by comparison.
Maybe I'm too much of a film snob. Maybe I haven't been a parent long enough. Maybe I haven't build up enough desperation to just go to the movies. Call me old-fashioned, but it's not enough to go to the movies; I still care what movie I see.
The Daddy Types recommendation: Check the schedule beforehand, and if it's a movie you wouldn't want to see otherwise, unless your absolutely jonesing to be in a theater again, leave the Reel Moms alone.